Your dent technician Andrew arrived right on time, which I appreciated! He took his time during the repair to make sure that everything was done right and complete on my Nissan Rogue's driver's door. He was professional, polite and engaging as he explained everything that he was doing. I'm extremely pleased with the results of the crease dent removal, as I couldn't tell where the dent was afterward! Great job. I will be recommending your dent repair company to my friends!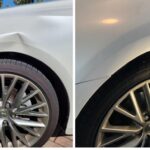 Andrew is the real deal! We had 2 cars with fender damage which would have costed $1,500 to repair at my local auto bodyshop. For less than one-half the cost and less than 3 hours, my two cars are s good as new!! Andrew is a real gentleman and an artist true to his craft. We couldn't be more pleased! We will happily, recommend Andrew to my family and friends in need of his quality dent removal.

Toni & Jerry V – West Palm Beach, FL  7/23/21

Reference available upon request
As a small retired dealer, I've had dent removal done by some really talented techs over the years. In my impression, your guy is at the top of my list. Firstly, he was prompt in his communication and arrival. Secondly, he removed my door dings fast and flawless. Also, your price was fairly competitive. I'll definitely be using your dent repair service in the future. Keep up the good work!

Ed, Boca Raton, FL – 11/21/18
I just wanted to express how much of an excellent job your dent repair technician did on my 2014 GMC Terrain. This is the second time that I've used your company. The experience was once again, very professional, courteous and responsible. I will definitely request him again for my dent removal services. Thank you once again for a great service.
Today (January 29th, 2018), your representative Andrew came to my office to fix a creased dent in my Mercedes. This was for my dent protection warranty plan. Andrew called me last week and scheduled the appointment at my convenience. He is exceptionally polite and an outstanding technician as I realized when he perfectly fixed the dent, that was on a difficult spot. I am quite sure that you know the kind of outstanding person and professional that he is. I just want to reiterate his qualities and the great asset he is to your company.

Thank you!- Mariano G -Palm Beach, FL. 1/29/18
I wanted to leave a comment on your company and the great work that your tech Andrew did on my 2016 Dodge Challenger. As soon as I saw it, I called regarding a nickel sized dent that was put on my front fender. Then, I sent Andrew the pics and he indicated he could fix it. He arrived on time and worked very hard on this dent on the body line and fixed it like it just came off the show room floor. Awesome work Andrew! I highly recommend anyone to contact him and Quality Dent Repair. Thanks again..

Rick Samson -Jupiter FL – 4/29/17
Hiya! Thank you for sending Quality Dent Repair to take care of the dings on my 2017 Lexus RX 350. I literally could not sleep until I got those door dings removed. I'm glad I got the ding ad dent protection plan from the dealer. I'm impressed with how quickly you were able to accommodate me. Thanks for allowing me to sleep at night! I hate dings and scratches. So, it's great to know that this type of service exists.

Bernie and LeAnn – Palm Beach Gardens FL  1/9/17
Unfortunately, both luxury cars recently got dented on separate occasions. One by a ladder and the other, someone opened their car door and hit my car. I called Quality Dent Repair and a professionally dressed gentleman showed up. He explained the entire process, then proceeded to restore my cars the way they were before the dents. I was extremely happy and satisfied with the job that Andrew did for me. In the unfortunate situation that I should get another dent, I will call this company and request Andrew to work his magic. Thank you for your professionalism!

Donovan Harrison
Mortgage Specialist – Wellington FL 1/24/17
I have used Quality Dent Repair several times, I have also used other dent services. Quality Dent Repair (Andrew) is by far the best! He has removed more than a dozen dents and dings for me flawlessly. It has saved me $$$$ thousands of dollars in body work. Andrew is very professional, he shows up on time and does exactly what he is supposed to do. He is a true craftsman with his tools and I would trust him and only him with my expensive cars, and your every day commuter. He will tell you straight forwardly what needs to be done and does not lead you on, like other dent services I have used that only disappoint you. Thanks for the savings and the great dent work. I will see you again!

Josh Hews
Return Customer – Boynton Beach, FL 12/22/16
I just wanted to thank you for the quick dent repair service you provided me. Based on a pre-inspection, my leased vehicle had a dent that the agent recommended be repaired or pay the penalty. So, I  did a quick search online for dent repair near me.  Your company was the first one highlighted on my iPhone for mobile dent removal. Thanks for coming out to my office in such short notice! I will definitely keep your number if this ever happens again. Nice work!

Mike T – Wellington FL 9/9/16
I want to thank you for the excellent repair done recently of the two dents that were on the tailgate of my mini-van. The repair was amazing and I will surely recommend your business for any type of dent removal! Thanks for doing an excellent job. Very professional!
Awesome experience, very professional and great customer service!! The door dent on my Mercedes is 100% gone! I would and will recommend Quality Dent Repair mobile service to any and everyone I know!
Hello, we just wanted to thank you for such a fantastic job in removing the dents on the hood of my wife's Maserati Ghibli. We choose your company because of the many five star reviews found all over the web, and we are very happy we did! What an amazing craft this paintless dent removal process is. You made it seem so easy, even though it was very evident that the dent in question required a great deal of skill to remove. You saved us from a lease return nightmare and we are eternally grateful. We will continue to spread the word here on Palm Beach Island! Thanks, thanks, thanks, so much!

Ed and Liz W.
Palm Beach Isles, FL 1/4/16
Thank you Quality Dent Repair for sending your dent team to us! We've been able to provide our customers with a higher quality pre-owned vehicle because of your teams' outstanding attention to dents and detail. You guys are true professionals!
I don't usually write reviews, but the service was worth the few minutes it takes to write this.
Ended up with 2 nice dents on my door, self inflicted. I was in a hurry and tried to fully shut my door with my hip like a fool, too many years playing football. After searching online I kept seeing stellar reviews for Andrew, so I figured I would give him a call. The 2 dents I created were on the body lines of my vehicle, the worst spot on the car and stood out because it's a small hatchback.
After talking with Andrew, I sent him a few pictures and he was able to give me a rough price. I was fully expecting a few hundred dollars and was surprised at the very fair quote I received, figured more since Andrew was coming to my home.
Andrew was very professional, courteous, gave me detailed information on what he was going to do and proceeded to make my 2 dents disappear. The car looks like it did before and I couldn't ask for better service and craftsmanship. I've never seen this process done, but was able to see the pride Andrew takes in his work and time to make sure it's perfect
I don't plan on having anymore dents, but would call Andrew again if I did. Highly recommend him based on my experience, very hard to find someone who cares about their work & doesn't think of it as just another job. Thanks.
I normally don't leave reviews but decided to make an exception in this case. I came out one morning to find my brand new Mercedes s550 hood dented by a large palm frond. After calling a few repair shops and mobile dent companies, I decided to go with Quality Dent Repair. The reasons were simple, the body shops were predictably priced but seemed to be an inconvenience for me since I'd have to go through my insurance to receive a rental and wait for days without my vehicle. Also, while two other well recommended competitors declined the job based on the size of the dent, the guys at Quality Dent Repair seemed confident that the dent could be fixed and did not seem intimidated by the size of the dent. Best choice I ever made! Thank you!
Your dent tech removed a dent from my 2004 Ford Mach 1 recently. So, I wanted to express tremendous gratitude for his skillful dent repair, which was short of a miracle! I will be spreading the word about the awesome dent repair that you did to all my buddies on my Ford Mustang forum. Thank you and agan. GREAT WORK!
I was really impressed with how easily accessible you were as a company. I googled "dent repair in palm beach" and your website came up right away. Then I made the call and you were there the same day! Thanks for making it easy and for getting rid of those annoying dents from my Mercedes and BMW.
I just bought my 2012 Dodge Challenger not even a month ago and opened the door on a pole in the garage at work. If I didn't see it for myself and wouldn't believe that a dent could be removed without re-painting! When I called dent wizard the tech told me a dent on the crease of a door cannot be removed by the traditional dent repair process. So when I saw the dent removed, I was blown away! I'll be telling 10 of my friends about this amazing experience. Thanks Andrew, you really know how to do a "quality" dent repair!
No intrusions, professional, prompt, reliable and honest. If the job cannot be done to standard they won't do it. We highly recommend and use Quality Dent Repair for our non collision repairs." It's a challenge to find a good paint-less dent repair tech that will not drill. So when we discovered Andrew from Quality Dent Repair, we were very pleased with his work ethics and discipline to the trade. Thank you qualitydentrepair.com.
We have a leased vehicle with a large dent on the door. My vehicle's lease was expiring soon, plus, bodyshop estimates were very expensive. Someone told me to try paintless dent removal service. So, I looked it up online and spoke to several dent removal companies. I felt the most comfortable with Andrew of Quality Dent Repair. I asked him tons of questions and he was very patient with me. Andrew came out the next day and did an amazing job! He is meticulous, thorough, and very professional. Thanks to your dent representative, I'll never go to a body shop unless I have to. Thanks, Andrew!
I have a pristine SRT 8 Dodge Challenger that's my pride and joy. One afternoon, I was cleaning the sunroof and accidentally put two dents in the roof. Needless to say, I was devastated by how soft the metal is on these cars and how easily it dented. After searching online, I decided to use Quality Dent Repair based on your reviews and professional presentation.

So, I contacted Andrew about getting a price to have the dings removed. He immediately gave me an estimate of not to exceed a price that we mutually agreed upon. We set up an appointment and he arrived right on time. He was professional yet very personable and I immediately knew he was the man for the job. Within 90 minutes my car was pristine again and he walked my through every step of the procedure. He is an artist and a true car guy who gets the passion we have for our beloved cars. I would recommend your dent tech Andrew to anyone who needs paintless dent removal. Your prices are great and his work is top notch.
Hail Damage Repaired – Like it never happened.

My name is Glenn Robinson and I live in Stuart, FL. I have a 2012 Camaro SS that I just love. Unfortunately, my car was parked outside at my church on April 27th 2015 when a very strong storm hit the Stuart area with lots of hail, some almost the size of golf balls. My car sustained about a dozen dings or dents from the hail. The hood, the trunk lid, the roof and the fenders, nothing was spared. I was completely heartbroken. Desperate to do something, I searched the Internet and found http://www.qualitydentrepair.com and gave them a call. A tech named Andrew came to my office in Tequesta where he made the repairs on site. The results are simply FANTASTIC! I absolutely cannot find where the dings were at all. It is like the hail damage never happened! Previously the dings looked horrible especially on the hood. Now they are completely gone like magic. There is absolutely no evidence of any damage. None! The hood is completely smooth from any angle. The other dings are completely gone as well. It is just amazing. I am super happy with the results. I can highly recommend Andrew. He does amazingly good work.
We just wanted to thank you for coming out to our offices and repairing the dings and dents from our leased vehicles. It couldn't have been more timely and cost effective for our organization to receive such impeccable service and pricing! The pre-inspection showed that based on the then existing dings and dents incurred, it would have impacted our bottomline in a large way, especially when considering the volume of cars that we lease. So we appreciate your service and the huge savings! We will definitely continue to recommend you to our business colleagues, friends and families.
Hi Andrew, thanks for removing the dent on my VW CC. Very professionally done! It's great dealing with someone who is polite, turns up on time and does a great job!
Andrew, Just a short note to say 'Thanks Again' for the great job you did! I was really concerned about that dent on my SUV and the black metallic paint that you were going to have to deal with. However, the job you did was perfect and I couldn't be happier with it! I also appreciate how you worked around my tight schedule; arriving at my house on time and then taking care of both of my cars for me. It's nice to know that good, professional work is still being done and I'll definitely be referring you and your company!
Andrew, we want to thank you for fixing the crease dent on my new Ford Escape. If you remember, the dent was on the lower body line of the passenger rear door. Although it was based on our car dent warranty policy, and they said it didn't fit the criteria for paintless dent repair because of its location, you convinced them to give it a try. We're glad you did and the warranty company Dent Zone should be thankful to have you as their dent rep! Well done and keep up the great work!
This is just a note to express thanks for saving me a lot of $$$$. I had a minor fender mishap and went to a local collision center on Northlake Blvd to receive a quote since I wanted to avoid going thru my insurance. However, after receiving the estimate of a little over $1000, I told them that was way outside of my budget at the time. Amazingly, they were kind enough to recommend your company as an option. They swore by your quality and skill level. I'm ecstatic that this option exists and the dent repair was flawless. You saved me way more than half the cost and definitely less than my deductible for my Mercedes E550. Great work and thanks again!
Thanks for the great repair on my wife's Toyota Sienna front side bumper. You saved us a lot of money by removing the dent I caused when I accidentally hit the side of the parking lot curb. Glad we didn't have to paint it! You do great work. Thanks again!
Andrew, I sincerely want to thank you for the fantastic job you did on my 2014 Jeep Cherokee Overland fender. The dent was a good size and as I stood there and watched you work I was totally amazed at your professionalism, knowledge, and quality of work. The end result was perfection, it was like there was never a dent there! Your pricing was definitely in line with the quality of your work. I will never have a problem recommending you with full confidence. Your the best!
I had a shelf collapse in my garage severely denting my recently purchased Mercedes S550. I was devastated! When all the other PDR companies passed, Andrew stepped up providing 'world class' results at a reasonable price. Have already recommended to family and friends!
We found you on yelp! After reading a few reviews, we decided that you were the best choice. A person can tell a lot about an individual he's speaking to if he listens carefully. You were polite, helpful and especially professional. We were in town here on a mini vacation on Palm Beach and got two surprise dents on our rental car. There are two things that I especially appreciated about your service, 1) your reliability and 2) your promptness. This was very essential to me, since I had a very slim deadline to return the vehicle. I had to send you these thoughts personally, because it means a great deal to find a service that stands by its name, Quality.
We wanted to share our thoughts on your incredible craftsmanship displayed today in removing the crease dent from the tail gate of my Mercedes SUV. We were recommended to your company by a close friend and they swore by you! So we called and were not disappointed! At first I thought of an auto body shop, but am so glad we tried this alternative. Great job, and again our thanks to you and your establishment!
I had a tech by the name of Andrew who fixed a few large door dents in my Mazda 6 today. I must state that I am quite pleased with the job done! Although my car is white, these dents were on each door (driver's side) that spanned from the top of the window to the bottom of the door plus the rear panel. When I saw the work that he did, I was extremely satisfied! My car looks new!!! I will definitely refer my friends and family to your establishment. Thank you much!
We wanted to thank you for repairing the dent on our Toyota Camry's hood. Your dent tech completed the job on time, professionally and perfect. We cannot tell where the dent was. Great job. Thank you very much!
This is just a note about how pleased I was with the recent golf ball(s) size dent removal done by your company! Andrew was professional and a credit to your establishment. I will recommend you to my colleagues and close friends!
Andrew came and did an amazing job on our 2012 Acadia and 2010 Town and Country. Could not even believe the results. Great service quality work huge value.
I just want to take a moment to say how pleased I was with the dent removal on my Mazda CX9 by Andrew. He kept to the quote, showed up on time and took out four dents, 2 of which I was unsure could be handled this way. He did a professional job and truly great work. Will definitely use again should the need arise and will absolutely recommend to any friends that need dent removal. Thanks Andrew for a great job.
Andrew was fantastic! He was professional, fair, on-time and did amazing work. He fixed 7 panels with dents on my car and I can't even find them anymore. If you don't hire this dent guy, you're hiring the wrong one!
I was impressed with the website, and was hoping the service would have the same quality and professionalism. I was not disappointed. Andrew was upfront and honest with the very large dent I had in the front fender of my BMW 325 convertible. I sent him a picture, and he was willing to give it a try when no-one else thought it was possible. Within an hour, the dent was out, and he saved me a very costly body shop repair. Andrew is very professional, honest, and reasonable. He did a great job and I highly recommend him!
Thanks for doing such a great job on my Porsche 911 Turbo. That dent was the size of my hand and never thought it could be fixed without a costly repair job. You fixed it without any trace of the dent. You are the 'Magic Man'.
Amazing doesn't even describe It!

About a week ago I got a sizable dent in my brand new car, a 2013 Subaru Impreza. It was right on the body line. I thought I was just going to have to live with this or have costly repairs. Then there is Andrew. To call this man a master of his craft does not do him justice. What he did today was a miracle. He is very professional and a super nice guy. Thank you. You restored my car back to its show room beauty. Awesome! Just awesome.
We are return customers of Quality Dent Repair. I was amazed that dents could be removed without repainting. The first time was when I witnessed Andrew remove a dent from a neighbor's vehicle. I asked him to do the same for my Chrysler 300. He showed true professionalism and customer service by accommodating me that same day. His level of skill was amazing! So much so that I called my wife and kids to watch as he made a very pronounced dent slowly disappear. Less than a year after, and I noticed a nasty dent on the body-line of my door. I felt so upset about this that quite honestly; I didn't even feel like washing my car after the incident. So, this time I called and Andrew came through again! It is very important to me that I recommend his work to everyone since both times my experience has been extremely satisfactory. I want to spread the word about this great (somewhat) hidden craftsmanship! Thank you Quality Dent Repair and Andrew!
Andrew was very knowledgeable about what he was doing. He quickly fixed the small ding in the door of my Mazda6 and did it in a professional manner. He made the whole experience alot easier to deal with by explaining what he was doing and how it affected the car. Thank you VERY much for helping me keeping my car looking clean!
Andrew was on time, professional, and did a great job repairing a small ding on my car. Customer service was top notch… I highly recommend this company.
This is my second time using Andrew from Quality Dent Repair. He did such an amazing job on my VW Jetta, that 2 years later I had to call him again for my 2013 Hyundai Azera. I backed into a mail box and made a dent in the trunk of my new car. It devastated me! I knew it was bad because it was dented right on the edge of the trunk. As usual, Andrew came by right away, explained what to expect and did a phenomenal job! I just wanted to spread the word that it's never easy to find such true professionalism and skill in general. Thank you for your amazing workmanship!
I wanted to thank you for sending Andrew today. He did an amazing job on my car (2012 Maserati Granturismo). The dent is 100% gone. Andrew is awesome!!! Thank you.
Thank you so very much for sending Andrew out. He was prompt, personal and professional in taking care of our 2007 Nissan Sentra. The four dents are now virtually invisible. I will be happy to recommend him to anyone who has a need for the services your company provides. Thanks again!
I didn't know much about Andrew or Quality Dent Repair before I had him out to service my car – but I decided it was worth the time to write a review because I was very impressed. I had one large dent and one smaller dent leftover from a not-so-great collision repair. He was friendly, easy to work with, and extremely knowledgeable about how best to handle repairs and other service items we ended up discussing. He went above and beyond my scheduled service request by fixing the second, smaller dent and also shared suggestions on how to care for my car. The company was reasonably priced and willing to negotiate, and my car looks great. Thanks, Andrew!
Andrew from Quality Dent Repair fixed a dent on the side of my brand new Chrysler 200. He repaired the dent to perfection! I was very happy with the end result. Also, he was professional, affordable, and very humble. I would highly recommend this company and Andrew to my family, friends and customers.
I would like to express my satisfaction with the work that Andrew did on my car (Mercedes GLK 350) today. In addition to doing a good job, Andrew was professional, punctual and cordial. I would certainly use his services in the future as well as confidently recommend him to friends, colleagues and family.
I recently bought a brand new lipstick red convertible Camaro which I love. I was heartbroken to see door dings on each door and the front fender. So, I looked up a dent repair company to take care of this asap and came across Quality Dent Repair on a Google search.

Your representative Andrew, was extremely professional, expedient in giving a quote and setting up a time. He came out at my request and did an absolutely fantastic job on my car for a very reasonable price. I have already referred him to one of my co-workers and will be sure to do so in the future. Thanks for the great service and restoring my beauty's beauty.
I recently had 2 dents removed from my 2011 Hyundai Sonata by Andrew. He was very courteous and helpful in explaining the procedure that he used to remove the dents from my vehicle. I would highly recommend Quality Dent Repair to all my family and friends.
Andrew did an excellent job on some very difficult dents on my Ford E-250 Van. His knowledge and experience were evident in his approach to the repairs and the end result. He was also very understanding of my schedule. I won't hesitate to use him again, and would highly reccommend him to anyone. Thanks again, Andrew.
The dealer dented my brand new Genesis in the service department and called their dent repair company. They told me that Andrew from Quality Dent Repair would do a great job. He not only called first, but came on schedule and explained the process. He was done in 15 minutes! I want to thank Lehman Hyundai and Andrew from Quality Dent Repair for keeping their promise and restoring my peace of mind.
I had my BMW 330i fixed perfectly by Andrew at Quality Dent Repair. He took his time and removed the dent on the crease of my vehicle's hood. The dent was in a tough spot and I heard that crease dents are the hardest, but not for Andrew. He's definitely a master dent tech! I give this company 5 stars!
I chose this dent repair company because of their reputation for quality. I felt that if they can fix dents on Maseratis and Ferraris, then I felt that they would treat my Ford Expedition 'FMF' Lmited Edition with care. What was most remarkable is that I didn't have to think twice about calling a paint and body repair shop,especially since my Expedition has a special two tone color. The dent repair guy, Andrew did a phenomenal job!